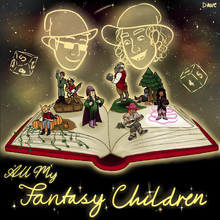 Welcome to the All My Fantasy Children Wiki!
Edit
An encyclopedia for the tabletop character creation podcast, All My Fantasy Children!
Aaron Catano-Saez and Jeff Stormer take your brilliant character prompts and create a beautiful tabletop game child.
Submit Prompts
Edit
Twitter: @AMFC_Podcast #FantasyChildren
Email: AllMyFantasyChildren@Gmail.com
Places to Listen
Edit
Connect with All My Fantasy Children
Edit
Latest Episode
Edit
Alpine Switchback: Trailblazing
Welcome, Junior Wizards!
This week, born of a prompt from DaMoonRulz
"Fantasy's number one trail guide"
Meet Alpine Switchback!
Hear the tale of how one Dwarf with a passion for exploration became the leading expert on the natural majesty of his world.
Go beyond, Junior Wizard.